At the beginning of December, I took part in my first able-bodied dressage competition (not counting the
club
one in February). It was an unaffiliated event held at Milton under British Dressage rules and eight of us from CURC were competing, ably assisted by some very helpful grooms for the day!
A chilly winter lesson at Milton on Rolo.
For the first time, I was to compete on Boysie, a new horse at RDA who lives at Milton. He's still very young, and I'm not up to containing his canter yet, so we were entering two different 'Intro' level tests, both of which only required walk and trot. There were two main reasons behind foregoing my usual choice of Rolo in favour of Boysie. Firstly, Rolo is particularly strong at the moment (/I'm a bit weak...) and so achieving any accuracy in downward transitions is nigh-on impossible. Obviously this doesn't really matter so much for jumping at my level, but in dressage you really have to be in full control the whole time! Fortunately, Boysie is very responsive to the aids for both upwards and downwards transitions, meaning that I don't have to push my body too hard to achieve the movement required from Boysie. Secondly, although he is young and 'just' a cob, he is really responsive to weight aids, which is very useful for me given that I struggle to use my legs and hands in a conventional way. For example, I can achieve bend or straightness with gentle shifting of my weight in the saddle or down into the stirrups. I can't fully control this either, but it's a lot easier than the more basic aids.
Beautiful Boysie, being ridden by Olivia at RDA (me on Rolo behind them!)
Although it had been entirely my choice to ride Boysie (and I had insisted on it!) I was still slightly anxious about the competition. It was to be held outside, and I'm always a bit anxious about being outside with all the distractions, especially with a young horse who I don't really know all that well and who is relatively untested. The first couple of times I'd seen Boysie, he'd been quite unsettled and nervous (probably because he was new to the yard) and although he had settled down since I still remembered my first couple of lurching rides where he swung between being ridiculously sensitive to my leg and ridiculously sensitive to my hand. Fortunately, I had had a chance to ride through both tests with Gillian, who is both my dressage guru and also owns Boysie! This had made me feel much more confident that I knew how to get the best out of him throughout the tests, but the run-through had been indoors so I still wasn't sure how excitable he would be first thing in the morning, outside in the wind, and all dressed up looking smart. I suppose I was going from my terrifying experiences with Rolo at Oaklands! I knew I wouldn't really know how he would react until we were actually in the ring.
Few horses need much encouragement to push their luck...
With the help of other wonderful CURC members, Boysie was soon looking spectacular and ready to go. After a bit of difficulty getting mounted (he didn't want to stand too close to the scary mounting block) I was on board and gently warming him up in the indoor school. He felt fairly sprightly but nothing like Rolo does first thing on competition day. This gave me some confidence! We didn't have a huge amount of time to warm up before going in, so I ran through the test quickly in my head and did plenty of trot circles and lots of transitions between halt, walk and trot.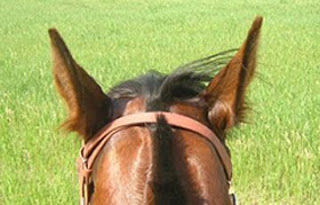 This is a good view of the ears whilst warming up.
Soon it was my turn! We walked into the arena quietly, after a minor issue with a big puddle outside the entrance that none of the horses wanted to walk through. We walked around the outside of the arena, then picked up trot above the A end and did some more circles whilst we waited for the bell. When the bell rang, I employed my lesson learned at Hartpury about making the A-C turn well above A so that you enter the arena straight. It was a nice straightforward start: enter in trot, proceed down the centre line without halting, and then get on with it! I spent the test focussing on accuracy, keeping as good a position as possible, and preparing Boysie for transitions in advance. I was quite pleased with how it went, but came out thinking of all the other things I should have done: kept my head up more, prepared Boysie even better and earlier, focussed more on straightness, getting a really solid long rein walk, and so on. Still, at least I had another chance to work on those things!
Trotting down the centre line.
We had a fair bit of time between tests so I took Boysie back to his stable, took his bridle off, loosened his girth, and popped his rug over his saddle so he could have a bit of down time. In the meantime he had quite a bit of fuss! There wasn't a huge amount of time before the next test, though, so fairly soon I was getting back on board to warm up quickly before the Intro B test. This time, I was determined to keep the accuracy but improve upon my general style of riding. I concentrated so hard and tried to prepare everything well in advance. I felt that I did ride much better, although I'm not sure if that actually translated into Boysie performing better!
Part of a 20m circle.
After my second test it was time to untack Boysie, give him a good brush down, and finally give him his haynet. He'd behaved absolutely impeccably throughout, so my concerns about young horse in windy and noisy outdoor arena proved to be unfounded. I was so proud of him and so delighted that I would be able to tell people at RDA (especially Gillian) that he had been such a good boy.
Attempting to stay straight into the halt - could have gone for a smoother transition though.
After he was all rugged up again and tucking into his delicious hay, I suddenly realised that it was time to relax and enjoy watching the others. I went and called a few tests (we were going for having callers just in case we forgot the tests - we mostly knew them but you aren't penalised for having a caller so it's a no-brainer really). I quite enjoyed doing this, although I felt awful when a big gust of wind took my shouted instructions away from Kirsty at a critical moment, and she had to circle round to try again.
Kirsty and Dan in their Intro test (photo taken by my mum!)
Other than that, I took some photos and generally just enjoyed watching the Cambridge riders perform so well.
Chloe looking stunning with Tisco.
Even when Darsh came into the arena saying that she didn't want to do the test, she still ended up riding it beautifully. This served to confirm something that I've had cause to experience on a number of occasions: that if you think you can't do something, you only find out by trying - and then you might just surprise yourself. It's how I felt at
Oaklands
, and it's how I felt after the
Cambridge Regatta
too - as I wrote in September, 'It reminds me that when I have those times of 'I don't want to be here' or 'I don't want to do this' I just need to give myself a kick up the backside and do it anyway.'
Darsh's halt and salute at the end of a beautiful test.
Whilst the Prelim level tests were taking place (one level up from Intro; includes canter work) Kirsty went to check on the results. Being achey, tired and a bit lazy, I opted to stay at my seat at the side of the arena, watching the others. Soon Kirsty returned, saying, 'I think you'll want to go and see your results yourself.' She would not explain in any greater detail, so I lumbered down to the hut where the results and scoresheets are laid out. There were two scoresheets, each with a red rosette pinned to them. I was genuinely astonished and didn't believe Kirsty when she said that they were both mine until I'd picked them up and seen 'Lizzie Bennett - Boysie' on each. For those of you unfamiliar with the rosette colour system, it goes: purple for 6th, pink or orange for 5th, green for 4th, yellow for 3rd, blue for 2nd and red for 1st. Boysie and I had won both of our classes! Funnily enough, it turned out that my extra effort in the second test had been to no avail, as I scored exactly the same mark (66.08%) in each - although I did get one more point for collectives the second time round!
Featuring John's prize for winning Fairbairns.
Later in the day, I emailed Gillian to tell her what a good boy her horse had been and to pass on some of the judge's lovely comments about him, including: "What a lovely genuine horse - he has correct paces, just lost some activity and suppleness in his work. Quietly presented." and "Your horse tries very hard to please, correct walk and trot, just loses some activity and suppleness to inside bend. Could soften a little more to outline. Quietly ridden." These are really useful comments to work from and I was glad that they spotted what a sweet nature he has.